What Local Drop Off Services do Parcel Direct Offer?
Most of us are familiar with couriers these days, they deliver nearly all of our online orders. Couriers are also becoming increasingly popular for sending items, and with services like ours, couriers have become more widely available to the regular consumer. Courier collection is convenient but what if you cannot stay at home all day to wait for the courier? Parcel Direct has the perfect option for you!
With our local drop off, once you have dropped off your parcel, your courier arrives to collect it on the chosen collection date. The parcel then goes through the shipping process until it is delivered. There is a size restriction for the stores as they do not have the space to hold big parcels. Stores can take parcels that have these measurements or below: 40 cm x 40 cm x 50 cm.
We work with some of the most reliable and affordable couriers in the domestic and international courier business, and we work very hard to get as many drop off stores on our website as we can. We are constantly adding new stores, so if you know of a shop that you would like to see on Parcel Direct, let us know and we will take a look!
Our drop-off stores aren't just for sending parcels, you can also get your own online orders delivered to your local drop off store. All you need to do is download our app on the Apple App Store or the Google Play Store and register for an account. Once you have selected your local store it will generate a Parcel Direct Local number which will start with "PDL". Now you can get items delivered to this store by using your PDL number and the stores address when placing an order on online shops. This fantastic feature costs as little as €2 per parcel you get delivered.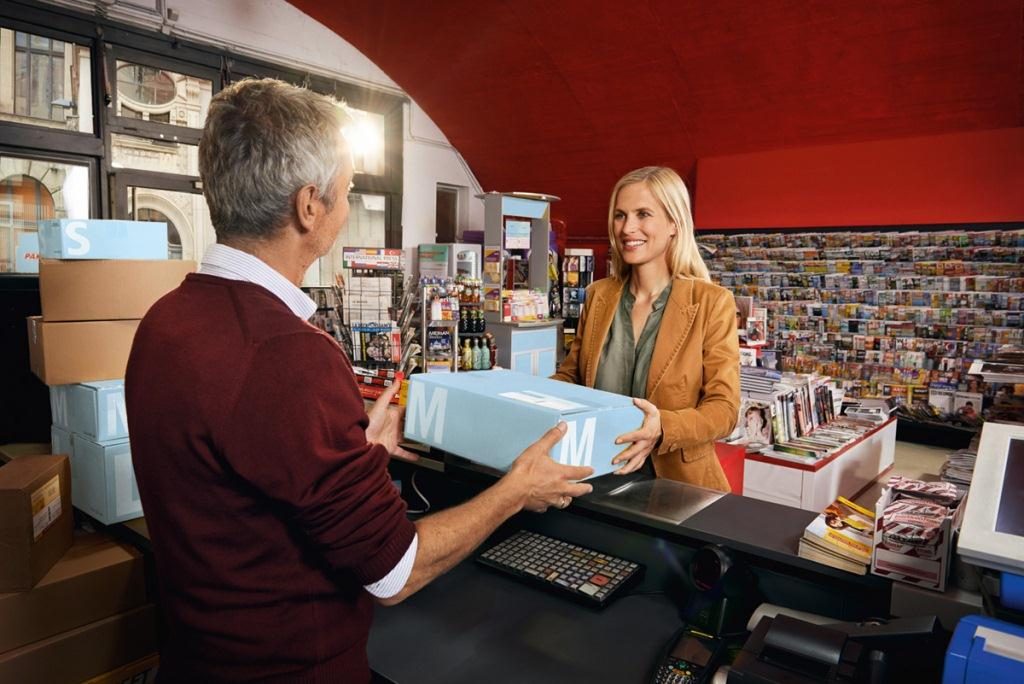 How does it work?
Securely package your item, We have a handy packing advise FAQ on our website that will help you with this.
Weigh and measure your parcel.
Go to www.ParcelDirect.ie
Enter your shipping country, your delivery country and the parcel's weight and measurements into ParcelDirect.ie. Click Quote and Book.
Your courier options will appear on the next screen, select I'll Drop it Off" under whichever quote you would like to choose.
You will see a map on the next screen, type in your street address and search. This will bring the map to your area, and it will show you the drop off stores in your area. Click on whichever drop off store you would like and click "Choose this Drop Off" under the map.
Fill out the rest of the information where you will supply your delivery address and your return address. Declare the contents, pick your collection date and add Enhanced Protection if you would like insurance. We offer €20 cover free with every parcel.
Next you will need to print some Parcel Direct customer drop-off labels and attach them to your parcel. Make sure the drop off code is clear for the store.
You need to have your parcel in with the store by 9am on the day of your scheduled collection. We recommend that you drop it off the night before it is scheduled to be collected.
The courier will come along and pick this up, you can use your tracking number to trace it every step of the way.
What Advantages Do Drop Off Stores Have?
It means you do not have to wait in home all day to meet the courier when you may have work or another commitment that you need to take care of.
Couriers will find it a lot easier to find a shop than your address if you live in a remote area of Ireland.
You can leave your parcel in the shop and know that it is safe and the courier will be able to get it.
Most of our drop-off stores are open late and 7 days a week so you can drop off or collect your parcel at any stage of the week.
There is no hassle, all you need to do is give your parcel with the label on it to the person at the shop till, and they will do the rest for you.
Most of our drop off stores are convenience stores and petrol stations which makes them easy to find and easily accessible.
It makes the courier driver's day just a little bit easier! Instead of going house to house they can pick up multiple parcels at one address.