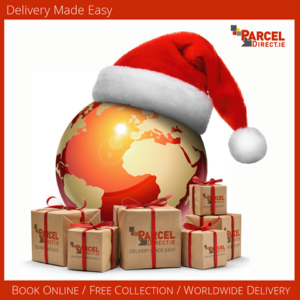 Whether you're an individual looking to send birthday or Christmas presents to your loved ones overseas, or a store owner in need of reliable shipping solutions for your national and international gift shipments, ParcelDirect.ie is here to show you how to Send Gifts via Courier.
We offer cost-effective options for sending gifts with global courier companies, making it convenient for individuals and businesses alike. Trust us with your shipments, and you can focus on expanding your business while benefiting from ParcelDirect's top-tier parcel services, catering to anyone looking to send presents to their customers or partners, be it in small or large quantities.
Shipping Urgent International Gifts Made Easy
For those seeking swift international gift delivery, our Express Service is the perfect solution. We take care of arranging the pick-up and delivery at the earliest possible convenience, ensuring your gifts reach your loved ones within 24 hours in Ireland or 24-48 hours internationally.
Gift Packing Procedures
Before sending your gifts internationally via courier, follow these essential packing steps:
Whenever feasible, retain the original packaging for your gifts.
Safeguard each item by wrapping it in bubble wrap.
Place the bubble-wrapped gifts inside a sturdy cardboard box.
Fill any remaining gaps in the box with ample cushioning materials, such as polystyrene chips.
Seal the box tightly with tape, and affix a shipping label provided by ParcelDirect (if necessary).
You can also check out our packaging blogs here
Send Gifts via Courier
This part is made simple by ParcelDirect.ie, follow the below steps and have your parcel collected from your home and delivered to your loved ones doors.
Click here to Get A Quote
Simply Enter The Size & Weight Of Your Parcel
Choose From Our Great Shipping Options
Have your Parcel Collected Or Drop It Off At A Local Store
That's It, All Done. It's Easy With ParcelDirect
Frequently Asked Questions about Shipping Gifts
Cost-Effective Solutions: The most cost-effective way to send gifts by courier depends on factors like shipping distance, package dimensions, weight, and urgency. A standard courier service is usually suitable, and you can book it through our platform to benefit from discounted rates.
Holiday Calendar: For timely delivery, we recommend to check the courier's holiday calendar and book shipments in advance, especially during busy periods like Christmas.
Extra Cover: We offer a standard liability up to €20 is included on all shipments. You can also opt for additional cover at low rates. It's advised to keep the original invoice for your items as proof of value.
Restricted Items: ParcelDirect makes this part easy for you and we have compiled a list of restricted items here.
Sending Gifts to non-EU countries: There are specific rules for sending gifts countries outside of the EU. Customs checks will apply, and duties could be applied in the destination country.
If you have any specific questions or need further information on a particular aspect, feel free to contact our customer support here.